Abuja World Trade Centre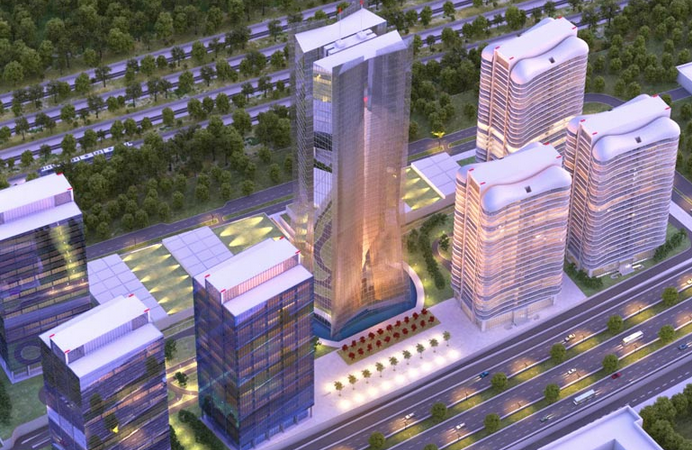 This is a 37 storey trade center project located on a 6.2 hectares of land in the Central Business District of Abuja, the federal capital city of Nigeria.
The 37 storey tower will be surrounded by 6 other towers, of 22 storey each. Three of the six 22 storey towers will be for commercial purposes while the other three will be residential.
The World Trade Center, Abuja is poised to be the best of its kind in Africa. The complex when completed will include a top hotel, shopping mail and top-rate office accommodation.
It will have facilities like basement parking lots, swimming pools and other world class recreational facilities.
The complex will also include residential apartments;
-1 bedroom apartments
-2 bedroom apartments
-2 bedroom duplex apartments
-3 bedroom apartments
-5 bedroom villa apartments
-6 bedroom penthouse villas.
The project commenced in January 2011 and is scheduled to be completed in June 2014.
The building is presently on its 22nd floor. It along Constitution Avenue, opposite Churchgate towers in Central business district, Abuja.
It is a Public Private Partnership between the Nigerian government and the Church-gate group. The project is estimated to cost N157 billion.
Facts
Official Name
Abuja World Trade Centre
Type
building
Status
Under Construction
Country
Nigeria
City
Abuja
Building Function
office
Start of Construction
2011
Completion
2015
Figures
Height: Architectural
158.0 meter / 518 feet
Height: To Tip
158.0 meter / 518 feet
Floors Above Ground
37
Construction Update l July 04 2013
Photos By:
scipher
Photos By:
scipher
WTC Abuja CC Oct2011 to 10April2012 avi
CHURCHGATEWTC1
World Trade Center Abuja Dec2013
Yemi Edun
Sources:
Abuja World Trade Center
The Project - World Trade Center Abuja ...:::: EURO FACADE TECH
Official Website:
World Trade Center Abuja
Greetings.